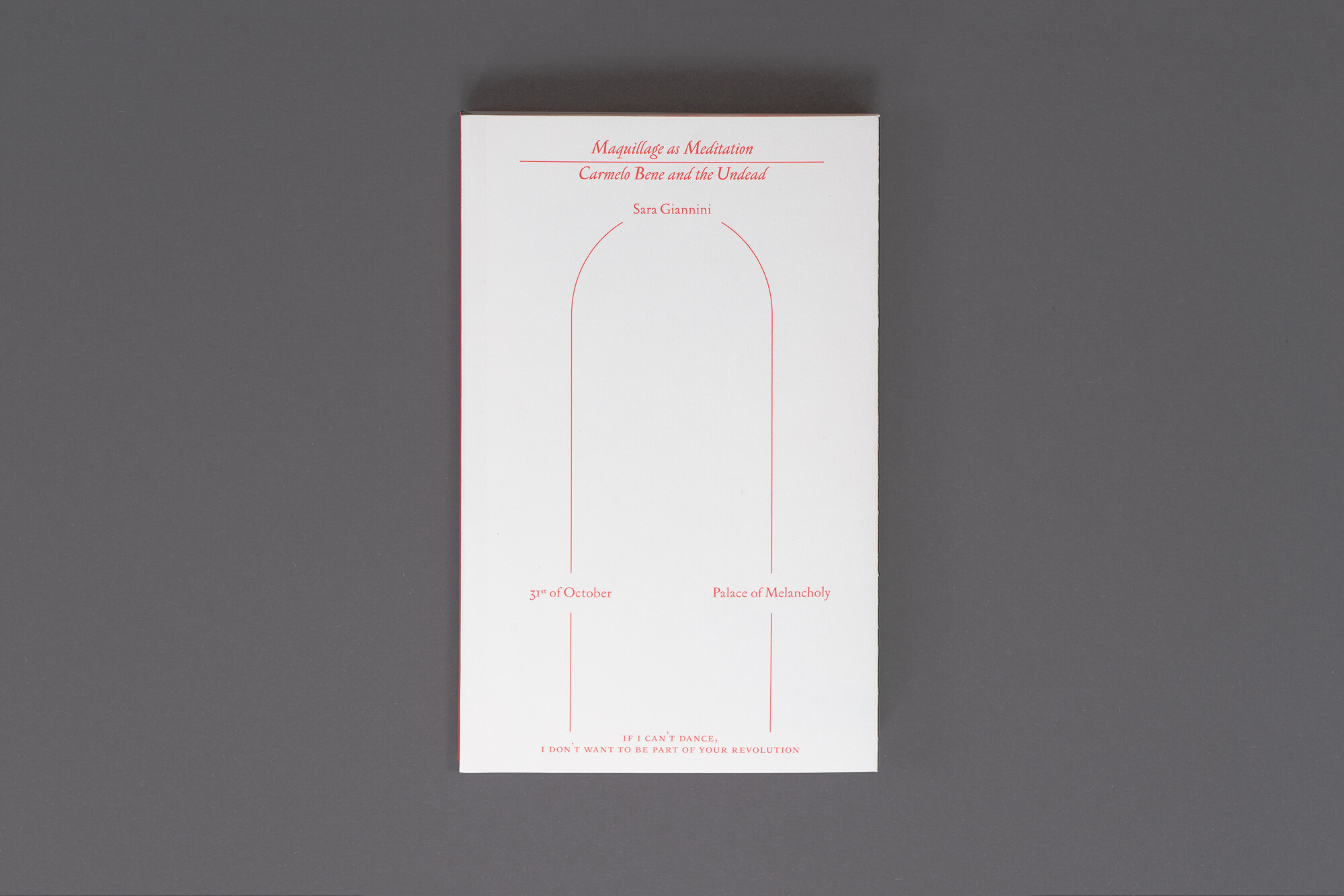 Sara Giannini: Makeup as Meditation — Carmelo Bene and the Living Dead – Announcements
If I Can't Dance is pleased to present that of Sara Giannini Makeup as a meditation: Carmelo Bene and the living dead, the 15th publication of its series "Performance in residence", as well as the closing project of Edition VIII—Ritual and display (2019-21).
The book is an happening, has happened, and will happen on the night of October 31st. Whenever it's open, it takes the reader into the middle of All Saints' Day, the night the other side, the stage, "is on stage. The setting is the Palace of Melancholy, a place of mourning, nostalgia, memory and pain. In this temporal and spatial loop, Giannini summons the specters left by the controversial Italian actor, author, director, philosopher and public figure Carmelo Bene (1937-2002).
The complicated legacy of this male figure is addressed by Giannini through inner voices of dissent, shame and rebellion, as well as through imaginative historical gatherings. Makeup as meditation takes readers through Giannini's personal journey as she tries to cope with her conflicting feelings towards Bene, recalling her first meeting with him on television at the age of ten. In the process, she speculates on new constellations through which to understand her practice and context. Part a screenplay, part a personal journey into the psyche of de-education, this book asks fundamental questions: What do we do with the "filth of our past"? How to reconcile – or even simply confront – these first influential personalities? How do we understand the experiences they engender, even though it may not be our desire to look back on those experiences? But what can happen if we come back?
In his company and support, Giannini has invited travel partners, friends and allies who bring with them their own critical reviews and excursions on what Bene has meant, and still means, to their lives and practices. Snejanka Mihaylova, Jacopo Miliani, and Arnisa zeqo probe the walls of the Melancholy Palace, looking for an exit. Together, the four travelers weave time loops and eternal returns by following in the footsteps of this heritage that lives in them, of what remains of the living dead.
The publication, designed by Raoul Audouin, is available on this link from December 16 for a reduced introductory price of EUR 15 (until January 9, then EUR 22).
that of Sara Giannini Makeup as meditation is part of the "Performance in Residence" program of If I Can't Dance's Edition VIII—Ritual and display (2019-21). Edition VIII also includes new productions by Derrais Carter, Pauline Curnier Jardin, Giulia Damiani, Lisa Robertson, MPA and Sands Murray-Wassink.
If I Can't Dance receives structural support from the Mondriaan Fund and AFK (Amsterdam Fund for the Arts) and project support from Prins Bernhard Cultuurfonds.
Other titles from the "Performance in residence" series
18 photos and 18 stories, Bulegoa z / b and Isidoro Valcárcel Medina
Adrian Piper: Interpreting Objects That I Have Been, Rhea Anastas
Anemones: a Simone Weil project, Lisa Robertson
Black Revelry: in honor of the sugar shack, Derrais Carter
Chroma lives, Erin Alexa Freedman and Lili Huston-Herterich
The Calamity by Delphine Seyrig, Nataša Petrešin-Bachelez
The Five Sisters of Guy de Cointet, Marie de Brugerolle
How we behave, Grant Watson
I See / The Camera: I, Jacob Korcynzki with contributions from Lucy Lippard and Babette Mangolte
Louise Lawler: a film will be screened without the images, Sven Lütticken
Pure Projection Landscapes by Matt Mullican, Vanessa Desclaux
Take singing lessons, Gregg Bordowitz
Ueinzz theater company: cosmopolitan delay, Peter Pal Pelbart
Who touched me?, Fred Moten and Wu Tsang