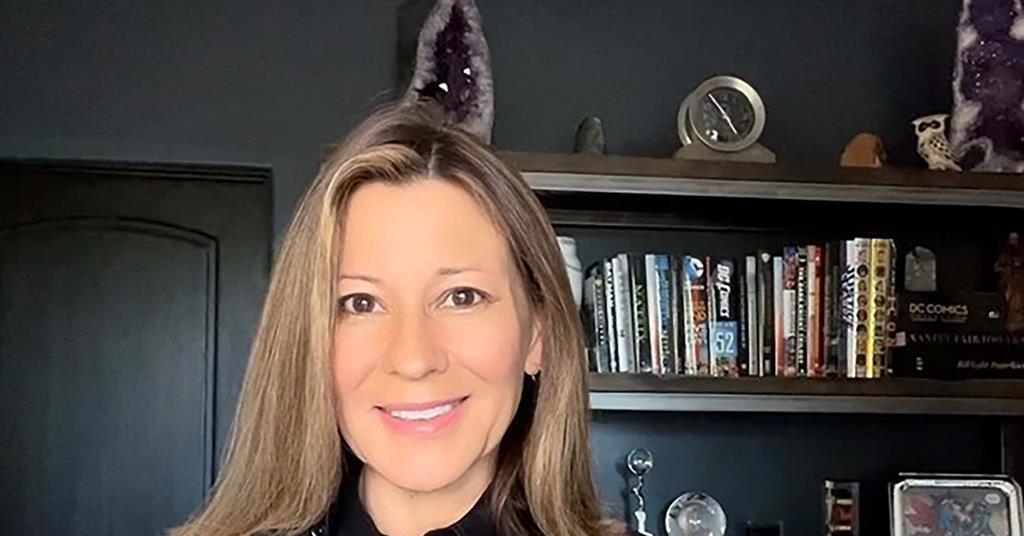 My Screen Life: Universal's Veronika Kwan Vandenberg on meditation, mentors and where she wants to be in five years | Characteristics
Los Angeles-based Veronika Kwan Vandenberg joined Universal Pictures International (UPI) as President of International Distribution in June 2020 after nearly 30 years at Warner Bros. At UPI, she spearheaded global blockbuster releases. Fast & Furious 9 and No time to die, and is now strategizing for campaigns for award nominees, including Belfast, Gucci House, Cyrano and Licorice Pizza, as well as the Christmas rollout of Sing 2. All this in view of the summer 2022 releases Jurassic World: Domination and Minions: The Rise of Gru.
No wonder she likes to meditate.
How is your office?
I work in a small space with wide open doors leading to the back garden. I have a monstrous desk with a crank that my husband made from a vintage drafting table. Behind me is a Timothy Oulton shelf with movie memorabilia and books as well as crystals and photographs. There is also a large vintage Italian poster of Cat on a hot tin roof. Oh, and a Peloton treadmill that I never use.
What's the first thing you do every day when you walk into your office?
I start the working day long before I get to my office. I get my emails straight away, then I start my morning routine and get my daughter ready for school. By the time I arrive at my office, I am ready to begin my meetings. I drink a lot of green juices and chai latte.
What was your first job in the movie industry?
As a marketing intern at Lorimar in the international film department. I was an international student at Loyola Marymount University [in Los Angeles] and was interested in staying and working in the creative industries and had a friend who worked in Lorimar. It was a long process to get started, get my work visa, and be offered a job with Warner Bros as a sales analyst intern.
Who do you admire in the industry and why?
I have always admired Donna Langley [chairman, Universal Filmed Entertainment Group] from afar and now I can see her in action. You want to do well by it. At the time, my biggest mentor was Alan Horn [former president and COO of Warner Bros]. He set an example, was courteous to filmmakers and executives, cared about the quality of the work and treated everyone with respect.
Who helped you the most when you started out?
My first boss at Warner Bros was Ed Frumkes. He taught me everything about the trade. He made me sit with him for hours, listening to his conversations. He gave me a huge amount of responsibility from the start and he let me go with it.
What was your favorite movie growing up?
I grew up overseas, so all of the movies came to us later than in the States. I was born in Hong Kong then I lived in Lebanon. From there we went to Germany and then I spent some time in Bahrain. I went to boarding school in France and graduated from high school in Amsterdam. My mother is German and my father is Chinese and my stepfather was Lebanese. I loved spaghetti westerns, Once upon a Time in the West was one of my favorites. When I lived in Hong Kong, Imposing Hell came to the movies and it was my first experience of a popcorn blockbuster.
Who would you most like to meet with?
Barack Obama.
Where do you want to be in five years?
On a spiritual quest across the world. I like to meditate and do yoga. It has always been my dream to get away from it all and spend a long time immersed in different cultures, spiritual settings, hiking on faraway paths. You never find time in life because of work, family and children in school.
What excites you about the future of the company?
The changing landscape. The job hasn't changed for a long time and we live in an era that allows us to try new things.
What is the biggest challenge facing the business?
Restore cinema habits, bring customers back to the cinema.
What job would you do if you weren't working in the cinema?
I would probably write. I wrote a lot when I was young. I always have a lot of stories in my head.
What's the TV series everyone should watch this year?
My recent favorites are Ted lasso and See, with Jason Momoa.
What are you doing to relax?
I meditate. I take long walks with my dog ​​and my husband. We had a puppy during Covid and it's my little baby. He's a golden retriever.
Who would you play in the biopic of your life and who would lead it?
Sandra Bullock, with a lot of comedy, and Nancy Meyers in the direction.