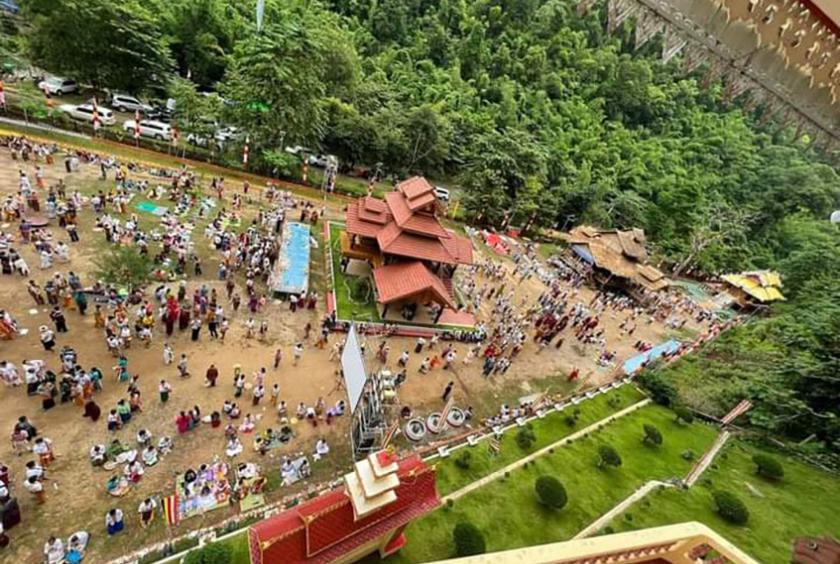 Mong Pong Sayadaw will receive a tribute after completing his meditation retreat in the cave for 3 years, 3 months and 3 days
Tens of thousands of devotees and Buddhist monks waited for Venerable Mong Pong Sayadaw Bhadanda Nyana Sanwara to emerge from Mongkyet Cave in Mongsat Township, eastern Shan State, on July 31 after finishing with successfully observing a solitary meditation retreat for three years. , three months and three days, local sources said.
The Sayadaw began his meditation retreat in the cave in April 2019 and was due to receive a tribute on July 31.
A large number of people from all over Myanmar and Thailand had gathered there since the beginning of July, according to local sources. The Sayadaw is said to receive reverence from members of the public for five days.
Thai media and social media said more than 100,000 people could arrive to welcome the Sayadaw.
Demining tasks have reportedly been carried out around the cave for the past few months.
This is the second time the Sayadaw has observed his long meditation retreat in Mongkyet Cave.
Mong Pong Sayadaw entered the Buddhist order at the age of 11, and since then he has been accustomed to eating vegetarian foods during the three months of Buddhist Lent. The Sayadaw still observes his meditation retreat in a cave, said hilly missionary Sayadaw U Sukha Meinta of Lwetein Kham Monastery in Muse in an interview.
Mongkyet Cave is located near the stream dividing the borders between Mongsat and Mongpyin townships.
There are over 50 camps around the cave where donors will provide free meals to waiting pilgrims. In addition, there are free clinics that provide health care.