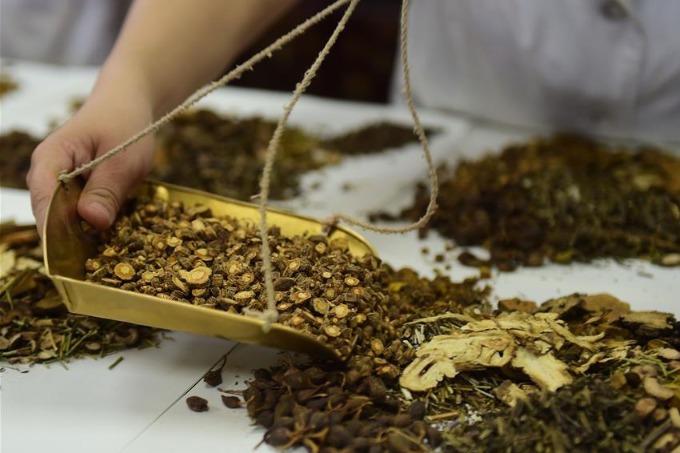 How Traditional Chinese Medicine gave me two new lives
How I became one of the fattest men in China can perhaps be attributed to the Tianjin baozi.
And it wasn't just baozi from Tianjin, but baozi from Jiangxi, Shenzhen, and Henan. I have become a fan of baozi and I never tire of it.
My weight gain was spectacular and something totally unexpected as I had extensive training in complementary and alternative medicine before coming to China and considered myself a health expert.
Still, I hadn't realized how quickly truly delicious food can become overwhelming.
So my weight quickly dropped from over 80 kilograms to 110 kilograms. I thought, wow, how big and strong I am, without really recognizing what was going on.
By the time I reached 130kg, I still didn't look fat, I thought stupidly to myself. I told myself that I was a shining example of health and that my greatness was a symbol of success. It certainly kept people from arguing with me or giving me sassy looks.
Yet by the time I reached 140 kg, I knew something was wrong. And I had to face reality. In addition, my son was just born, a beautiful boy.
My job as a teacher in Henan was exciting, life was good, but I was too fat. Earlier in Shenzhen, I saw a cardiologist who said I was going to die if I didn't take western medicine beta blockers. My blood pressure was 220/110. I was on a one-way ticket to the super-fast death with a young boy.
By the time I moved to Henan, I had stopped eating chocolates. But there was always the baozi from Henan, not as good as the appetizing baozi from Tianjin, which is so delicious I couldn't help myself. However, Henan baozi was also good.
I became desperate. One of my students told me about a famous traditional Chinese medicine doctor that I should see. I took the opportunity.
The day I went to see this TCM doctor, I was extremely surprised to see an old, small, extremely humble hospital with an old front door that needed some attention. And what really amazed me were the dozens and dozens of people at the front door of the hospital lining up to see this famous and obviously very reliable TCM doctor. She was a legend.
So I waited my turn. She quickly took my hand and took a pulse reading. I'm not sure exactly how it works, but TCM doctors use it as an essential way to diagnose patients.
In just over a minute, she said I had eaten cold raw veg straight from the fridge, especially salads which had not only destroyed my liver and kidneys and caused extra weight gain, but me. had resulted in fatty liver disease, which can be fatal by developing into liver cancer. .
I was knocked off my chair by surprise. What she said was absolutely correct, as I had used a mostly vegan diet of raw vegetables straight from the fridge and baozis. I didn't tell the doctor about it, but she knew everything. She could read me by her pulse. She was like a magician.
This wonderful doctor, who was well into his 60s, but looked to be in his 40s, then put me on herbal Chinese medicine plus an TCM diet consisting of two meals a day. , breakfast and lunch, and no dinner. I could do it for five days, then I had dinner and then I left without dinner for five days.
She also told me to stop all wheat and eat only rice with my vegetables. I was also told to have moderate portions of rice. She told me to cook my food, not eat it raw. In the evening, I used Chinese tea.
Within a month, my weight was reduced. In the meantime, I have held a fantastic teaching job in Wuxi, the famous city of Jiangsu Province. And for the next six months, I maintained my TCM diet, took extended daily walks, and lost three pounds per week.
Besides that, I found new TCM doctors at the fantastic Traditional Chinese Medicine Hospital in Wuxi.
They watched me closely and guided every step of the way, constantly checking my liver. In six months, I had fallen to just 75 kg. I had lost a whopping 65 kg. Can you imagine
I felt good. My blood pressure was 120/80 and my fatty liver was completely gone. Western medicine at the time said that fatty liver disease was an incurable disease.
I had stopped all western drugs. And my son smiled a lot more.
A few years later, I started to suffer from high blood pressure due to extreme stress. I lived and taught in Sichuan. The stress was the result of grieving a dying family member.
In an earlier chapter of my life, I had done intensive academic research on complementary and alternative medicine in the western country where I come from. One of my three masters theses that I wrote was in a new area of ​​medicine called mind and body medicine, where intensive meditation and diet were used to treat illness. This particular meditation technique came from India and Nepal and was introduced to the western world in the 1960s.
This meditation technique, called stillness meditation, was invented by an Indian meditation / yoga teacher called Shivapura Baba who lived 137 years from 1826 to 1963. It sounds amazing but it is true.
So I wrote one of my masters theses on it and the medicine of the body and mind, as many western complementary and alternative medicine doctors from Oceania, North America and Europe were using Shivapura Baba's stillness meditation to treat illness since the 1960s. I have become an expert in the matter.
I had used this mind / body medicine meditation technique earlier to treat certain illnesses with incredible success. And I used it to treat my very high blood pressure caused by the grief of a dying family member. But my blood pressure did not drop, even though I meditated three hours a day. I took blood pressure pills.
Some time later, I started a new job at a university in Guangzhou, the capital of Guangdong. Again, one of my students told me about a TCM doctor who has successfully treated many illnesses. This doctor was a master acupuncturist.
I have only had two acupuncture sessions with this amazing TCM doctor and my blood pressure has returned to normal. I was amazed that nothing had worked and I myself was a "doctor" of medicine for the body and the mind. So once again I found myself saved by TCM.
What this taught me about China is the great truth that Chinese culture is so sophisticated, so developed and so incredibly vibrant, and TCM is such a great gift to the world. Chairman Mao Zedong realized his great power early on and used it extensively for his troops. He then developed TCM for everyone in China to have access to.
My own academic research on complementary and alternative medicine is closely related to TCM. My PhD looked at how the latest advances in quantum physics exactly verify how TCM works.
And this, to me, is the magic of TCM. I firmly believe and now know that there is a very solid modern science to verify all aspects of TCM. Moreover, of course, this is confirmed by the actual medical results of this amazing drug.
I have met TCM doctors who cure cancer, heart disease, autoimmune disease, and other illnesses. I have seen their patients proudly tell me in person that they have been cured of these diseases. I have also read many patient stories about being cured of all these deadly diseases with TCM.
TCM is truly a remarkable gift to the world. A gift that further strengthened my great love and dedication to China. I love China because the Chinese government has developed the best country in the world using socialism with Chinese characteristics. And TCM is part of this foundation, the great symbol of China.
The author is a journalist, teacher / scholar, philosopher, poet, novelist and scientist who has lived in China for almost 20 years. He has taught at more than 15 Chinese universities and colleges as well as schools and has published numerous books on journalism, poetry, fiction and philosophy.
The opinions expressed here are those of the author and do not necessarily represent the views of China Daily and the China Daily website.
If you have specific expertise and would like to contribute to China Daily, please contact us at [email protected] and [email protected]